Shop for Leopard at amazon .com
, .ca
Moving away from its English only contents from both New Oxford American Dictionary and Oxford American Writers Thesaurus, Dictionary now features several new Dictionaries. Japanese, Japanese-English, an international Apple Dictionary as well as full access to Wikipedia in the many languages it is available make Dictionary an even more valuable ressource. Let's explore several of the new features from this application in Leopard.
Wikipedia integration is definitely one of the greatest feature from this Dictionary update. The pages are full featured as they appear on the encyclopedia site, including images like the one below.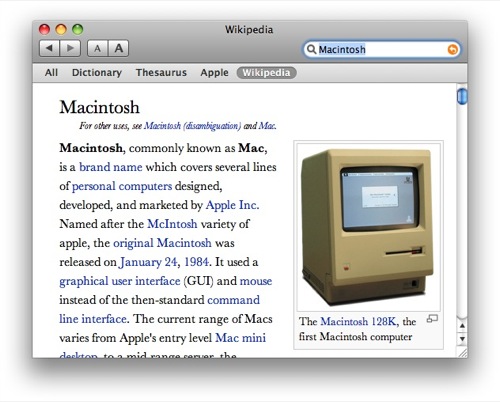 Dictionary preferences allows customizing the different languages you want Wikipedia contents to be displayed into. This is great for international users, as Dictionary otherwise offers ressources mostly in English (or Japanese with the new version).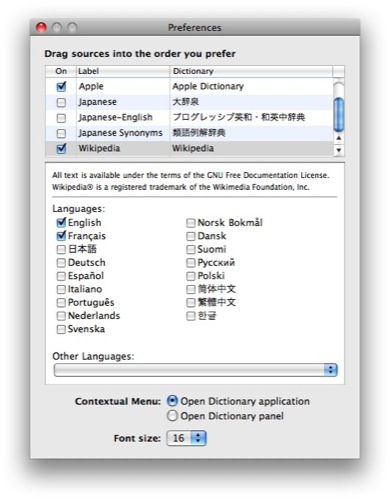 Apple Dictionary is a great new ressource to get help on technical terms you might encounter while using a Mac, helping to make technology even more familiar.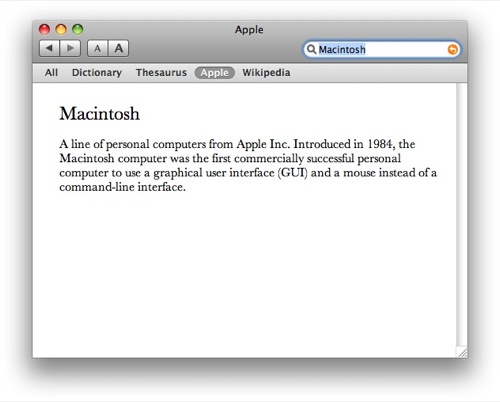 Back/Front Matter. Even the Oxford Dictionary is now improved under Leopard, featuring access to ressources previously unavailable from the application. To access them, select Back/Front matter under Go menu. Ready Reference is of great use, and features many helpful sections to improve writing skills, like "Language Guide", "Rules of English: Understanding Grammar", "Guide to Spelling" and "Guide to Capitalization and Punctuation". Other general interest sections include "Proofreader's Marks", "The History of English", "Countries of the World", "Chemical Elements", "Standard Weights and Measures with Metric Equivalents and Conversions" and "Alphabets". A few of these ressources are pictured below.
As dictionary is easily accessible in all Coca applications (by selecting a word then accessing it from the contextual menu, or by pressing Command-Contol-D with the cursor above a word, Wikipedia access is at the hands' reach !
Shop for Leopard at amazon .com
, .ca
Tags: Cocoa, international users, new feature, search, wikipedia