Magasinez pour Léopard sur amazon .fr
, .ca
Lors de son introduction sous Tiger, le Dictionnaire n'était que d'une utilité limitée pour les utilisateurs internationaux, n'offrant que deux sources de langue anglaise, soit le New Oxford American Dictionary et le Oxford American Writers Thesaurus. Un dictionaire japonais, japonais-anglais, un dictionaire international d'Apple ainsi qu'un accès complet à Wikipedia dans toutes les langues où l'encyclopédie est disponible font du Dictionaire une ressource d'autant plus précieuse. Explorons quelques nouvelles fonctions de cette application dans Léopard.
L'intégration avec Wikipedia est sans doute l'une des plus intéressantes fonctions de cette mise à jour de Dictionnaire. Les pages présentent un contenu aussi riche que sur le site de l'encyclopédie, incluant notamment des images.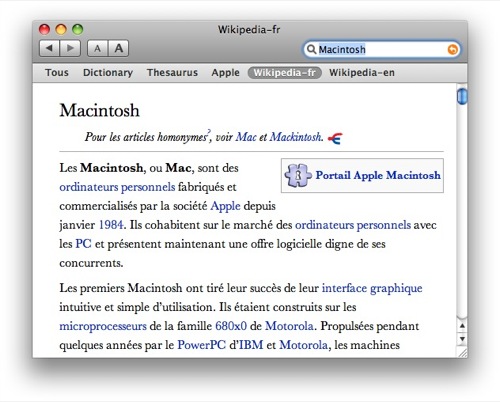 Les préférences du Dictionnaire permettent de choisir les différentes langues qui seront utilisées pour récupérer du contenu de Wikipedia. Ceci permet aux utilisateurs internationaux, notamment aux francophones, d'avoir accès à du contenu dans leur langue à partir du Dictionnaire.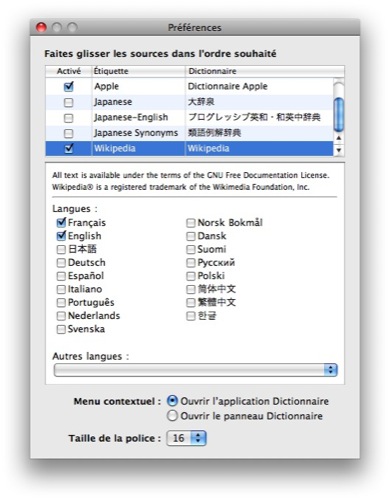 Le dictionnaire Apple est une nouvelle ressource très utile pour obtenir de l'aide sur des termes techniques que vous pourriez rencontrer lorsque vous utilisez un Mac, ce qui permet de rendre la technologie encore plus familière.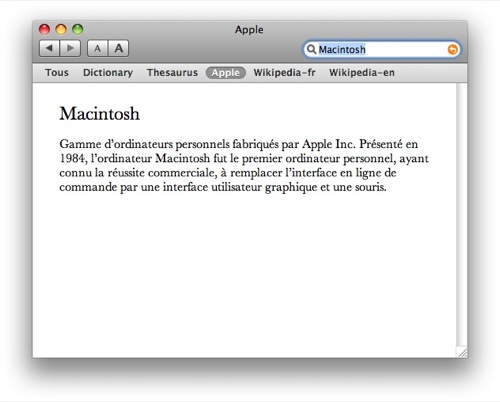 Pages d'introduction et annexes. Même le Oxford Dictionary est maintenant amélioré sous Leopard, offrant l'accès à des ressources qui n'étaient auparavant pas accessibles de l'application. Pour y accéder, sélectionnez Pages d'introduction et annexes sous le menu Aller. Bien quelles soient en anglais seulement, ces ressources sont d'une grande utilité, notamment pour améliorer ses habiletés écrites : "Language Guide", "Rules of English: Understanding Grammar", "Guide to Spelling" et "Guide to Capitalization and Punctuation". D'autres sections d'intérêt général incluent "Proofreader's Marks", "The History of English", "Countries of the World", "Chemical Elements", "Standard Weights and Measures with Metric Equivalents and Conversions" et "Alphabets". Quelques unes de ces ressources sont représentées ci-dessous.
Comme le Dictionnaire est facilement accessible dans toutes les applications Cocoa (en sélectionnant un mot, puis en y accédant du menu contextuel, ou en appuyant sur les touches Commande-Contôle-D avec le curseur au-dessus d'un mot), l'accès à Wikipedia est au bout des doights !
Magasinez pour Léopard sur amazon .fr
, .ca
Tags: Cocoa, international users, new feature, search, wikipedia