iCal features major visual changes, making the application look quite similar to the Calendar found on iPhone or iPod Touch. It also features a revised toolbar, containing buttons to change the calendar view or to display today's date, and a Search field in the upper right corner, consistent with other Mac OS X applications. Here is a quick look on this application in Leopard.
Mini calendar view on iCal looks quite like the calendar on iPhone or iPod Touch.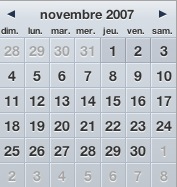 iCal inline event editor panel also ressembles the iPhone panel. While the presentation of the panel is improved, editing already existing event seems less easy than in iCal from Tiger.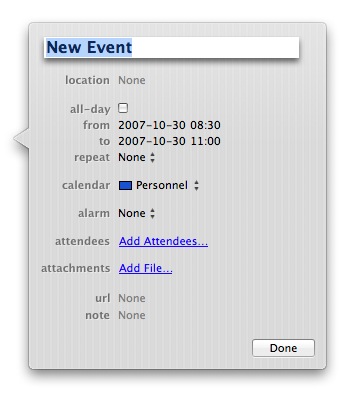 iCal availability panel seems like a very nice new feature for setting groups appointments, yet it only works with a CalDAV server like iCal Server from Mac OS X Server.
Shop for Leopard at amazon .com
, .ca
Tags: caldav server, iphone, ipod, mac os x server, new feature, visual changes