Shop for Leopard at amazon .com
, .ca
Mail in Leopard features numerous improvements in many different areas. Data Detector is one of its greatest new feature, and allows detecting events and contact's information, providing a tight integration with Address Book and iCal. Quick Look integration is extremely useful, allowing you to view various attachments from an e-mail in a flash. Stationaries and Photo Browser makes it even easier to compose great looking e-mails. With To-Dos, Notes and RSS, Mail goes way beyond managing only e-mail, and moves toward a personal information management system. Here is a quick look on this application in Leopard.
Data Detectors will definitely improve your daily workflow when managing contact and events information from e-mail. Addresses in messages are detected as you move the mouse over them, pressing the mouse buttons gives a menu offering several actions on this information, allowing you to quickly create or update a contact, display the contact's card in your Address Book or retrieving a map of the address from Google Map.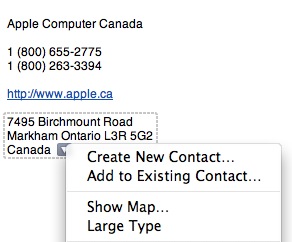 By selecting create new contact, an inline panel appears, allowing you to edit the contact you are about to create.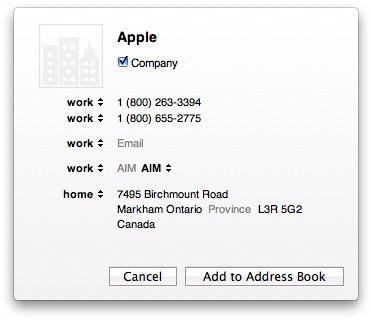 Events are also detected, and Mail is smart enough to translate relative dates like "today" into a calendar date.

When creating an new event, a panel then allows you to customize the event, along with the calendar it will be added to. Mail is smart enough to get the time and sometimes even the location of the event from the message.
Phone numbers offer the option to be displayed in large type, which is useful if you want to dial from across the room.

Tasks can be easily managed directly from within Mail.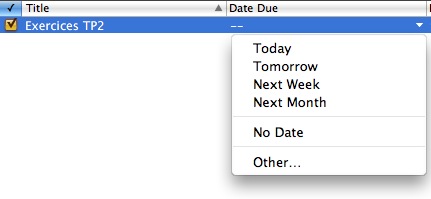 Quick Look fits perfectly in Mail. Receiving various attachment might be a common situation to you. Quite often, an e-mail can contain different types of documents, like a PDF, a Word document and an Excel document (pictured below). The traditional way is to open these attachments one by one, in the three different application that are required to view them. Quick Look knows better, as it is able to show you these document one after the other, in a single window, as you click the Quick Look button from the top of the message. Shown below is an index sheet displaying these three types of documents. Of course, you can scroll through all pages from each of them.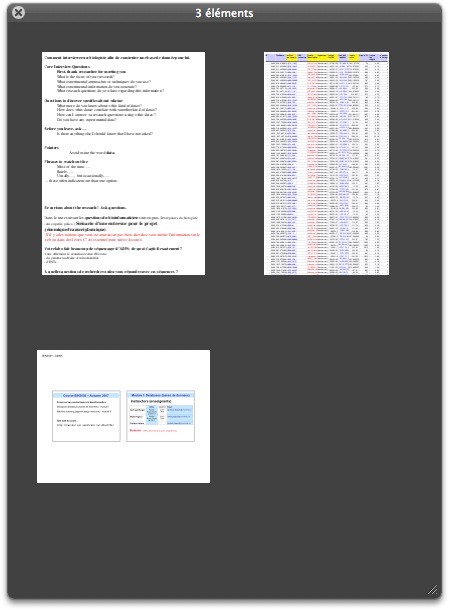 Here are a few examples of Stationaries available from Mail. It is even possible to create your own templates if you send similarly formatted messages often.
All these new features makes Mail a very compelling upgrade, that allows dealing more easily with the daily flow of information we are exposed to, with great transparancy.
Shop for Leopard at amazon .com
, .ca
Tags: contact, google, new feature, pdf, photo browser, search, stationaries