Shop for Leopard at amazon .com
, .ca
Safari gained few features, yet improvements when dealing with tabs and performing text search on a web page make it even easier to use. One great feature is that it allows reopening the last closed window, as well as all windows and tabs that were opened when Safari was last used (from History menu), providing an easy way back it in case a particular site makes it crash, or if you closed a page by mistake and want it back. Here is a quick look on this application in Leopard.
Tabs in Safari can do a lot more with this update. By dragging tabs around, you can modify the order in which tabs appear within a window, move tabs from one window to another, move a tab into its own window or group all tabs into a single window (from the Window menu). Below, you see what happens as a tab is dragged outside the tab bar: an icon representing the page can be dragged either to an existing window, or anywhere else to create a new window with that tab.
Searching text inside a page is much easier with Safari. Search is now incremental, meaning that it will be performed live, with occurrences of your query getting highlighted as you enter your search and results getting narrowed down as you input new characters. The new spotlight-type highlight (yellow spot on the word) as well as the page dimming makes it really easy to spot the result. You'll wonder why search wasn't working this way before! Fortunately, the new highlight is also available in TextEdit and Preview.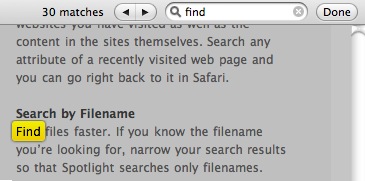 PDF documents show controls that will make their use easier too.

Overall, Safari is a nice update, and provides enhanced usability with some of its nice new features.
Shop for Leopard at amazon .com
, .ca